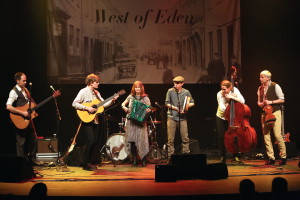 Hi there.
We're heading south next week to visit the following venues:
April 4: Café Kommodig, Landhaus Schütt, Steinbergkirche, Flensburg (DE)
April 5: Boerderij 't Westendorp, Aalten (NL)
April 6: Folk at Home, Tilburg (NL) – SOLD OUT
April 7: Muziekcafé de Lantaern  Zevenaar
April 8: Podium Café "Peter en Leni"  Steendam
And we can also offer you some BRAND NEW MUSIC! Swedish Indie rock legend Timo Räisänen asked us if we could do a version of his new single "Eld & Aceton" (Fire & Acetone). Of course we could! Ladies and Gentlemen: We give you "Faith, Hope, Theft"! Hope you like it.
Love & Peace,
/West