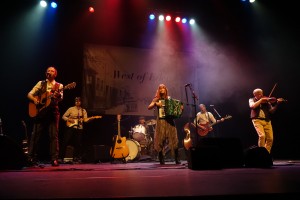 Hi there.
Hope you all have had a good summer! We 've certainly enjoyed our concerts and all the lovely people we've met in Sweden and in the UK!

Six more shows coming up. Four in Sweden and two abroad. Here's where you'll find us:
1/9: Regina-teatern, Uppsala SWE
2/9: Musikvalvet Baggen, Stockholm SWE
3/9: Verket, Norrtälje SWE
4/9: Ölme Café, Kristinehamn SWE
23/9: La Borsa Roma Showroom, Behrendorf GERMANY
25/9: Podium Café, Steendam HOLLAND
If you don't have t the opportunity to come to any of these shows, HERE's a live video of the song "Wilson Line" from our new album "Look To The West" recorded earlier this year. Check it out!
And remember: West of Eden loves you!

/West
West of Eden's Facebook.