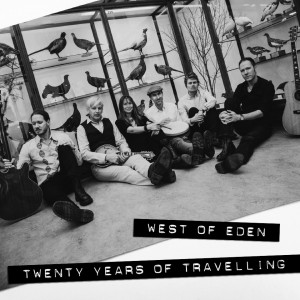 Hi,
Lots of exciting things about to happen now….!
On friday March 30 West of Eden will feature on Swedish national television program Go'kväll where we will perform our new single "Twenty Years of Travelling".  The song is a celebration of us sticking together for twenty years as a band, and is also first single from our upcoming collection album which will be released in May.
Hooray! Can't wait to share this one with you

Some tours are coming up as well. Starting at home here in Sweden on April 28. We will play songs from our entire career. Hopefully better than ever. Come see for yourself. Longing to meet you all. Where? Here:
28/4:
Mölnlycke Kulturhus
29/4: Valla Kyrka, Tjörn (Trio)
30/4: Bingolotto, TV4
4/5:
Bohusläns

Museum

, Uddevalla

6/5:
Stålboms Konditori
, Falkenberg
12/5:
Stinsens Hörna
, Herrljunga
13/5:
Klubb NäRA
, Borås
14/5:
Kronhuset
, Göteborg
20/5:
Stora Salongen
, Lilla Edet
25/5: Kulturakademin, Motala
26/5: Salute, Lindesberg
27/5:
Teater Klämman
, Mellösa
1/7:
Kanalyran,
HåverudMore info coming. 2017 will be a fine year!
XO
/West of Eden